School Visits
We'd love to visit your school!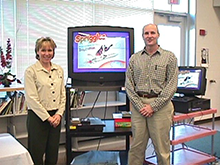 There's little we enjoy more than spreading "spirit" and "giggles" directly to young children at their elementary schools. Our lively, interactive presentations focus on childhood self-esteem, health, nutrition, activity, and exercise.
We offer half-day as well as whole-day visits, allowing us to effectively bring our message to more intimate groups. By visiting individual classrooms for 20 to 30 minutes at a time we can tailor each presentation to a specific age level and effectively interact with the children in a more intimate environment. But hey, we're flexible! To read what children are saying about our presentation, click here.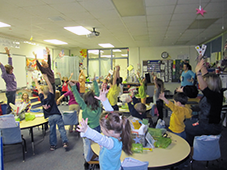 "Martha and Jeff communicate their inspirational messages with enthusiasm while involving the children in the learning and leaving a lasting impression. Their emphasis on goal setting is a critical building block to all learning that takes place in children's lives. The Spriggles book series provides a great foundation for teaching children to be responsible and positive learners."
Pam Griffith, Teacher
Rose Pioneer Elementary, Holly, MI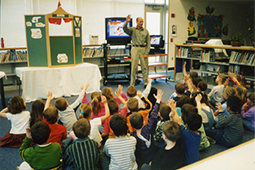 "You two were unbelievably awesome! Each and every student thought it was truly outstanding! Thank you again. We can't wait to have you back for a follow-up."
Marlana Blamer
Oscoda High School
Oscoda, MI
If you would like us to visit the school where you teach or where your child attends, please notify the school administrator of your interest. Ask the administrator to contact us either by email or by calling toll-free (888) 875-5856. That's all there is to it!
Hope to see you soon, Raccoon!